CHARM-EU Joint Master's in Global Challenges for Sustainability employs innovative pedagogical approaches and mechanisms to engage staff and students of diverse backgrounds and disciplines to facilitate, foster and enhance the links between education, research and innovation. The delivery of the course will incorporate flexible, blended and hybrid formats. Partner Universities are: University of Barcelona, Trinity College Dublin, Utrecht University, Eötvös Loránd University and University of Montpellier.
Author: Sanne van Vugt, Utrecht University. See contributors page
Co-authors:
Meritxell Chaves, CHARM-EU Alliance Manager, University of Barcelona
Jake Byrne, Assistant Professor, Trinity College Dublin
Silvia Gallagher, Research Fellow, Trinity College Dublin
The CHARM-EU joint Master's in Global Challenges for Sustainabililty is an innovative example of digital interactions in teaching and learning. Using best practices including five, interconnected
hybrid classrooms located across five European universities, a bespoke Virtual Learning Environment, and a novel ePortfolio platform, CHARM-EU is at the forefront of technologyenhanced education in Europe.
The Master's is a pilot in CHARM-EU, one of the European Universities funded by the European Commission, that stands for Challenge-driven, Accessible, Research-based, Mobile European
University. Partner universities in the project are: University of Barcelona, Trinity College Dublin, Utrecht University, Eötvös Loránd Budapest and University of Montpellier.
Inter-institutional Hybrid Teaching and Virtual Learning Environment
CHARM-EU uses a hybrid approach to deliver modules. Hybrid teaching and learning mixes two approaches; students following on-campus education and the other campuses following this realtime education from another campus. Students in hybrid classrooms collaborate with peers locally and in virtual inter-institutional teams. Hybrid classrooms offer the opportunity to collaborate in synchronous education, even when students and teaching staff are not at the same location.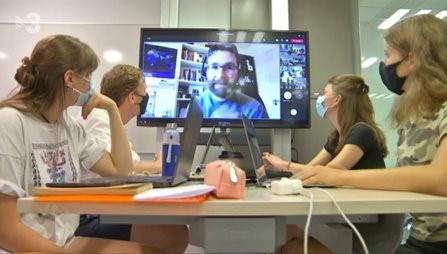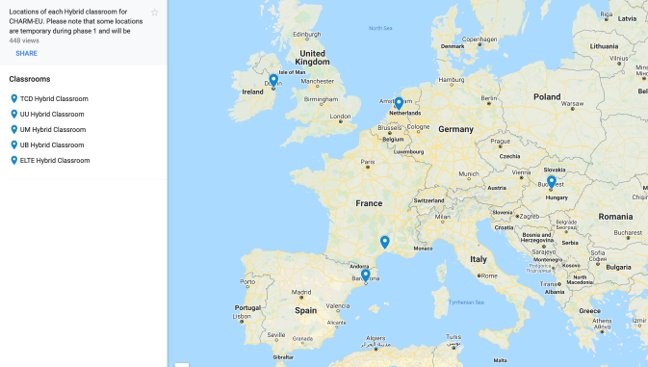 Students at the University of Barcelona following a teaching activity from a teacher at Trinity College Dublin
Locations of the Hybrid Classrooms in CHARM-EU
The CHARM-EU Virtual Learning Environment (VLE) is an ensemble of different applications designed to enhance teaching and learning to support the distributed and collaborative nature of the programme. These technologies work together and support students interactions with each other, their teachers and assessors. The VLE consists of core platform technologies, flexible applications and emerging technology
Three elements of the CHARM-EU VLE contributing to a digital collaborative environment.
Core platforms are used by every student and academic teacher of CHARM-EU. The core consists out of three applications:
      Moodle: This is the learning management system that is used to organize courses;
      Scorion: This is the ePortfolio for CHARM-EU that is used for programmatic assessment;
      Microsoft Teams: This is used for collaboration, video conferencing and hybrid teaching.
The flexible zone consists of applications that some students and academic teachers might use, but aren't essential for everyday learning. The emerging technologies offer space for experimentation. Examples of emerging technologies that CHARM-EU are looking to explore are virtual and augmented reality and serious games. These three levels of technologies implemented in teaching and learning support the digital interactions in the CHARM-EU Master's.
Reflection on further developments and practical applications
We continue to focus on improving digital interactions by working with key-users and technological support staff to refine the digital infrastructure by collecting feedback from staff and students on their experiences using the hybrid teaching approach. As a recommendation for staff, students, and educational leaders who are exploring hybrid teaching, we suggest providing teaching assistance and logistic facilitators to support teaching activities in each location, thinking carefully about designing interactive activities that are suitable for hybrid teaching.
Resources:
CHARM-EU Educational Principles
CHARM-EU Hybrid Classroom Handbook
CHARM-EU Emerging Technologies Reader